Covenant Membership Renewal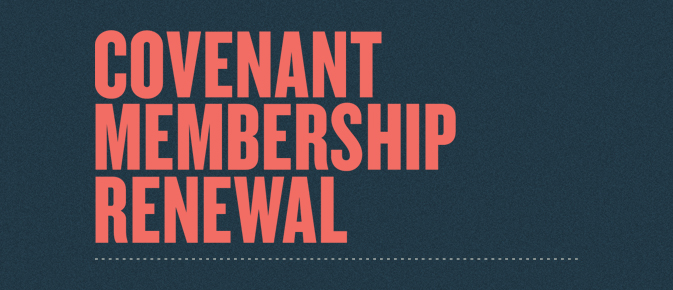 Covenant Membership Renewal will take place from November 1 – December 10 on The City. The process gives members an opportunity to review our Membership Covenant and renew their Covenant Membership.
All members will be invited to the Covenant Membership Renewal group on The City to complete the process. We encourage you to take your time and prayerfully consider what God has called you to.
FAQs
What if I'm not on The City?
On November 1 you will receive an email with instructions to sign up for The City. If you have problems setting up your account, please contact .
When will I be invited to the group on The City?
You will receive an invitation to the Covenant Membership Renewal group via email by November 1.
What if I'm not invited to this group?
If you do not receive an invitation to this group, please stop by Connection Central before or after a service or contact your campus pastor admin:
When do I need to complete the process?
Though Covenant Membership Renewal ends December 10, we encourage you to complete the process at your earliest convenience.
Do all members have to participate?
All members must complete the process unless they became members in fall 2012.
Why are we doing this?
We take membership seriously and want to shepherd our people to faithfully pursue God. Covenant Membership Renewal allows us to see where you are and how you're doing.